Billboard Battalion is coming to Bendigo on Saturday 20th August after highly successful convoys in Echuca and Shepparton.
We will be utilising a mixture of mobile signage on vehicles, static signage and portable handheld signs.
Please see our list of approved sign messages on our website: https://billboardbattalion.com/approved-signage/
The convoy starts at 9:30am from 2 staging areas: Huntly Memorial Hall (647 Midland Highway, Huntly) and Caltex Ravenswood (4633 Calder Highway, Ravenswood).
Please arrive at your preferred staging area by 9:30am to leave at 10am.
If you are traveling from other areas, please email us contact@billboardbattalion.com or message our Facebook page to be put in touch with convoys coming from your local area.
Full Itinerary:
9:30am – North group meet at Huntly Memorial Hall. 647 Midland Highway, Huntly.
South group meet at Caltex Ravenswood. 4633 Calder Highway, Ravenswood.
10:00am – Leave respective meeting points and head to closest Bunnings
10:30am – North group arrive at Epsom Bunnings.
South group arrive at Kangaroo Flat Bunnings.
11:00am – Groups leave Bunnings and head through town and head to opposite Bunnings.
11:30am – Drive around Bunnings car park, then head back to town turning at the fountain and head to Crook Street Park.
12:00pm – Arrive at Crook Street Park setting up a visible display. Lunch break.
1:00pm – Break into smaller groups.
Group One – Kennington, Strathdale, Flora Hill, Strathfieldsaye.
Group Two – Kangaroo Flat, Golden Square, Bendigo Central.
Group Three – Eaglehawk, Long Gully, California Gully, Hospital Area.
Group Four – Epsom, Huntly, Bendigo East, White Hills
Group Leaders: Ben/Sharlene, Wade/Jim, Suzi, Nick
2:30pm – All groups meet at Rotary Park in Kangaroo Flat for visible display. (Opposite the APCO Service Station, 35 High St, Kangaroo Flat).
3:15pm – All groups depart Rotary Park in a convoy to Lake Weeroona via a few laps of the Hospital.
4:00pm – Meet at second BBQ area (closest the railway lines) at Lake Weeroona for visible display. Please park wherever possible.
6:00pm – Meet at Belmont Hotel for meal. (17 Skene St, Bendigo.)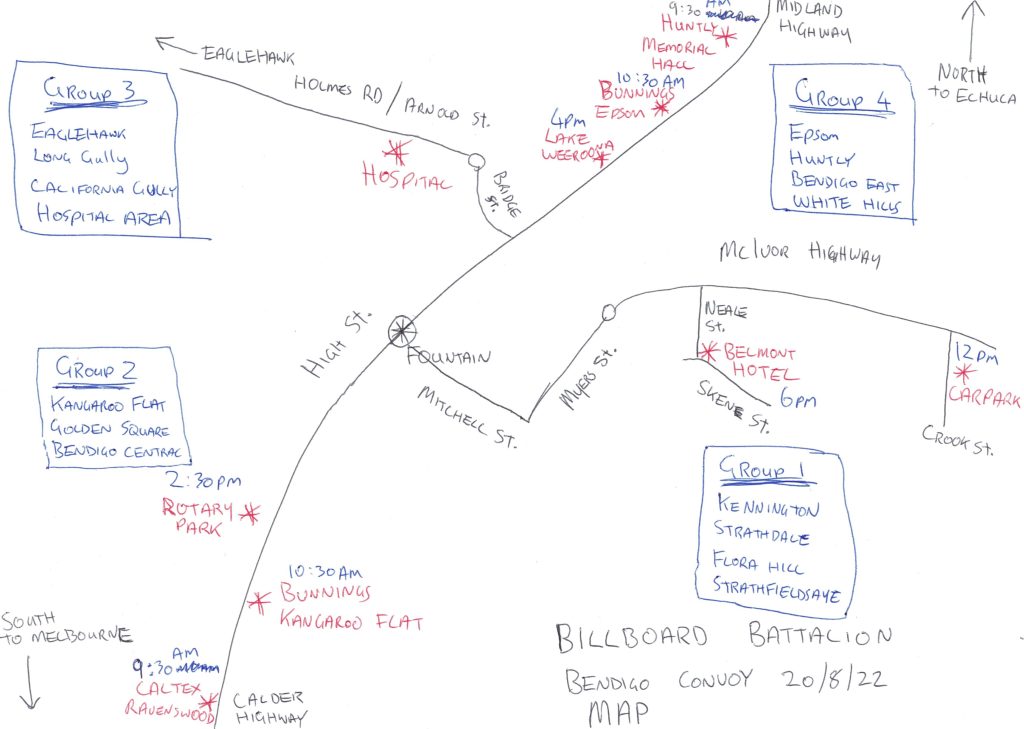 We hope to see you there.