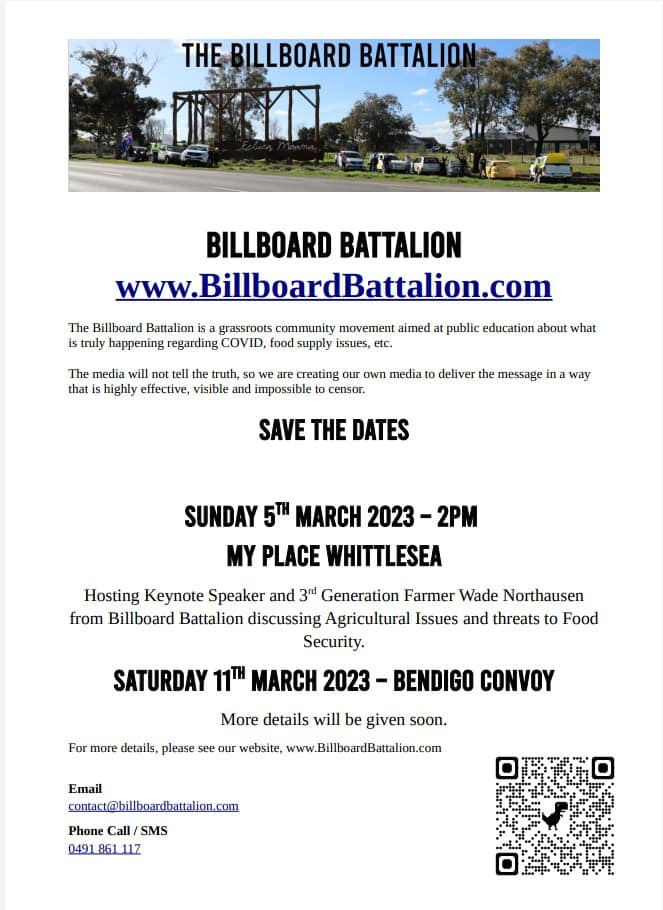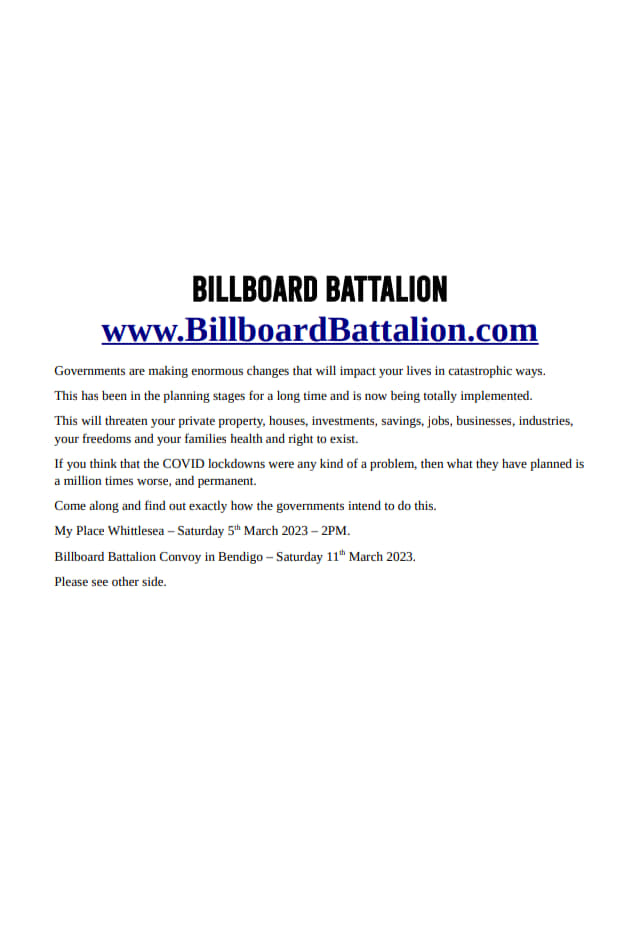 ---
Past Events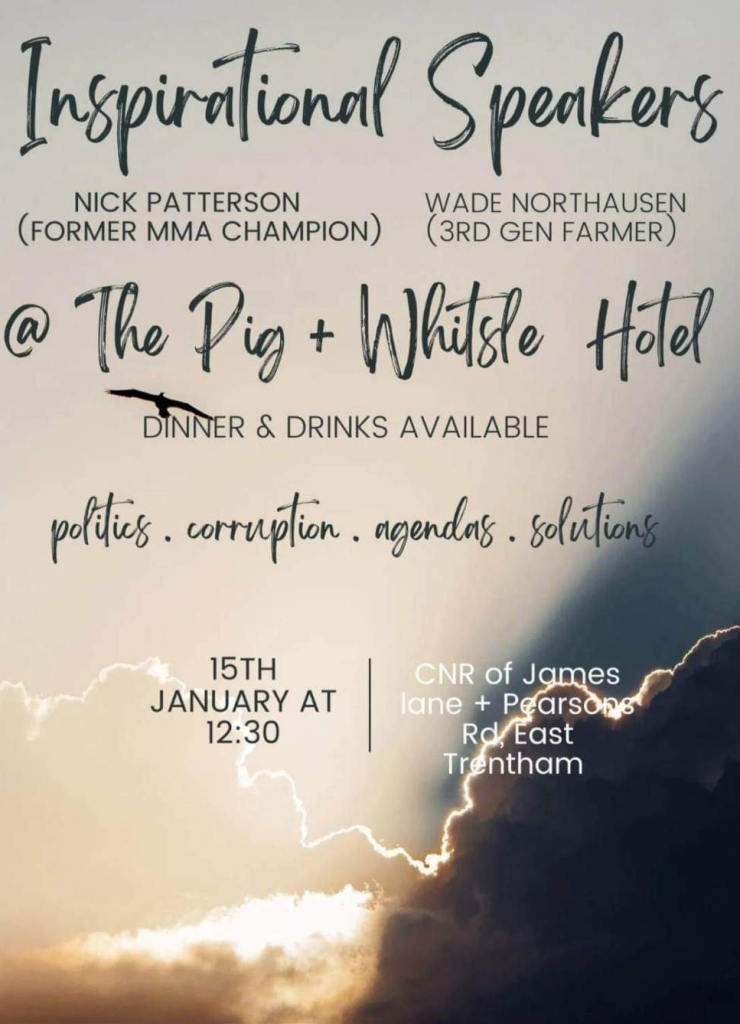 Urgent Public Meeting – Tatura Hall – 7PM 30/11/22
Details at https://billboardbattalion.com/2022/11/11/urgent-public-meeting-tatura-hall-7pm-30-11-22/
Saturday 1st October 2022 – Albury / Wodonga
Our next event will be in Albury / Wodonga, on Saturday 1st October.
9:30am – Arrive at Lincoln Causeway
10:30am – Depart Lincoln Causeway
10:40-11am – Bunnings Albury – park on Riverina Hwy, NOT in Bunnings carpark.
12pm – Lunch at Australia Park, Wodonga Place.
1:30pm – Depart Australia Park, Drive around Wodonga in afternoon.
3 pm – Meet at Lincoln Causeway.
Saturday 24th September 2022 – Colac
Saturday, 24th September, Billboard Battalion is coming to Colac.
10:30am – Arrive at Memorial Square, Murray St, Colac.
Combination of a short convoy down the highway, and static/handheld billboards in the park.
Lunch will be available to purchase at the Commercial Hotel, Colac
Sketa's Bar, Murray St, Colac, will be open from 8PM till 12. BYO food, and there is plenty of nearby food choices.
Accommodation may be available, please contact us if you are interested.
Guest Speaker – Tami Jane – Mission2Melbourne.
Feel free to make your own Billboards with messages about food security and the threat to farmers.
We invite everyone to join us.
Saturday 3rd September 2022 – Ballarat
This Saturday, 3rd September, Billboard Battalion is coming to Ballarat.
More details will be provided shortly.
Saturday 20th August 2022 – Bendigo
Save the Date!!!
Billboard Battalion is coming to Bendigo on Saturday 20th August after highly successful convoys in Echuca and Shepparton.
We will be utilising a mixture of mobile signage on vehicles, static signage and portable handheld signs.
Please see our list of approved sign messages on our website: https://billboardbattalion.com/approved-signage/
More details will be on our website and Facebook page by Tuesday 16th August.
We hope to see you there.
Saturday 6th August 2022 – Shepparton
IMPORTANT UPDATE:
Please note the updated location for Convoy Start / Staging Area – Convoy will start at Cussen Park, 129 Ross St, Tatura Vic at 9:30am.
BILLBOARD BATTALION MISSION TO SHEPPARTON – EXPOSING MEDIA AND MEDICAL LIES!!
​Following on from a very successful first run in Echuca last Saturday, The Billboard Battalion will do it's 2nd Convoy/Rally into Mooroopna and Shepparton this coming Saturday 6/8/2022.
We will begin from a staging area at Cussen Park, 129 Ross Street, Tatura at 9.30am.
We will then travel in convoy into Mooroopna and Shepparton, breaking into groups of 3 at the first set of traffic lights at Mooroopna for freestyle travel around the Shepparton city area.
We will have 2 group stops during the day – one at 12.30pm in the car park at the Shepparton Market Place, 110 Benalla Road, Shepparton. This will be a BYO lunch and briefing. Lunch can also be purchased at the Market Place Food Court.
After lunch we will move off for more activities around Shepparton with a final rendezvous in Melbourne Road (both sides) beside the Lake for a final debriefing.
** Please see the Billboard Battalion website for APPROVED signage! https://billboardbattalion.com/approved-signage/
For Enquiries please ring Wade Northausen on 0491 861 117
Note: Bendigonians who would like to convoy to Tatura/Shepparton – please meet at the Huntly Bakery (George's Bakehouse) at 8 am on Saturday.